Epoxy Coatings
Epoxy coatings have been around for decades. They come as powder coatings and liquid coatings. In the liquid form, the coatings are usually two component systems that are solvent based or water based. Epoxy is a tough, fairly corrosive resistant coating used in all industries. It usually handles temperatures between -50°F and 250°F. We prefer not to use it on outdoor applications because the UV rays from the sun will cause the coating to "chalk" or turn whitish. This usually does not deter the coating film, but can be unsightly if you have a cosmetic part.
We have applied it to exhaust fans, automotive under the hood parts, exercise equipment, tanks, potable water pumps, food equipment and many other applications.
Van Westrum Corporation uses many epoxy coatings manufacturers depending on the application. We have years of experience spraying 3M's
Scotchkote
® on/in tanks, as seen at the left, pumps and piping for potable water.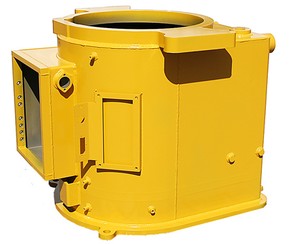 Please call us now to discuss your application problems. We will be honored to work with you in deciphering which coating system will work for you.