FEP Coatings
FEP (fluorinated ethylene-propylene copolymer) Fluorocarbon coatings are a thermoplastic coating that melt-flows to a non-porous film which makes it great for corrosion resistance and release qualities. This thin coating works great for acid resistance and as a mold release for various resins. It comes in both a liquid and powder forms for many application methods.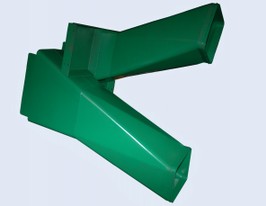 FEP is chemical inert to most chemicals and solvents except very strong alkali solutions and fluorine at elevated temperatures. Most coating applications are 1 to 5 mils DFT. This coating can be used in applications as high as 400°F continuously and intermittently up to 450°F.
We have applied FEP coatings on needles, rollers, chemical tanks, pipes, heat seals, molds and many other products. Some of DuPont's TEFLON®s, Whitford's XYLAN®s as well as other manufacturer's coatings contain FEP for the above types of applications. It is sprayed as both a liquid and powder type of coating for the industrial and FDA type industries.
Please call us now to discuss your application problems. We will be honored to work with you in deciphering which coating system will work for you.